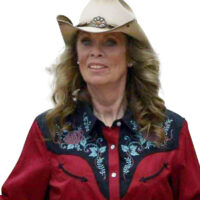 Meet the Author – Meredith Hodges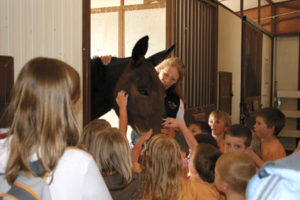 Meet Meredith Hodges, the world's leading authority on mules and donkeys!
As a young girl, Meredith was crazy about anything to do with horses. When she grew up, she got to work with mules and donkeys on her mother's mule ranch. Meredith says that, once she got to know Longears and they welcomed her into their hearts, she realized that she wanted to raise mules and donkeys, train them, and make sure everyone in the world would know how wonderful they are!
With lots of hard work, patience and kindness, Meredith trained her mules and donkeys and never gave up. Over the years, her mules became champion blue ribbon-winners in everything from driving to dressage. They even got to march in the Rose Bowl Parade! And to prove that "Mules can do… and donkeys, too," Meredith and her donkey, Little Jack Horner, jumped over four feet in competition, setting a world record!
Nowadays, Meredith and her mules and donkeys live on a big ranch in Colorado, where she gives public tours so kids and their parents can actually get to meet Meredith\'s brave, gentle, funny and fun-loving mules and donkeys in person! Meredith says she has a lifelong case of "Mule Fever" and she wouldn't have it any other way!