Jasper: Goes to Bishop
Animated character Jasper the Mule wants more than anything to compete at Bishop Mule Days
in Bishop, California, but he doesn't think he's got what it takes.
One morning, he discovers he's been magically transported into the real world,
and he sets off for Bishop Mule Days. Along the way,
Jasper meets some very funny and helpful people.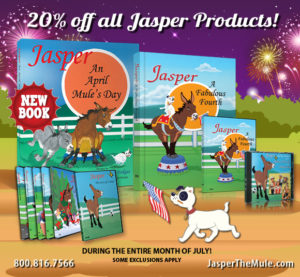 Join Jasper and his friends on all of their many wholesome adventures!
The Jasper the Mule children's series follows a young mule and his best friend Moxie the dog through all kinds of mischief, mystery, hijinks and adventures. Although he is often misunderstood, Jasper is a good mule. He wants to please, but he also wants to have fun.
Author Meredith Hodges captures the hearts and minds of children and helps them to discover a love for reading. Tennessee Mule Artist Bonnie Shields' illustrations insure that each book is a real page turner. 
The Jasper the Mule series is filled with positive messages and admirable role models. Jasper's adventures are light-hearted and fun to read for kids of all ages. Grade school children will have no problem following along with stories that teach good morals and values. The content builds character, contains no profanity, vulgarity or violence. The stories leave children feeling uplifted and inspired.
Enjoy exploring Jasper's website to learn more about Jasper, his friends and all their delightful adventures.
Latest Reviews

"Excellent story. Great gift for 4 year old. Book was much loved by mom and aunt. Everyone wanted to read it."